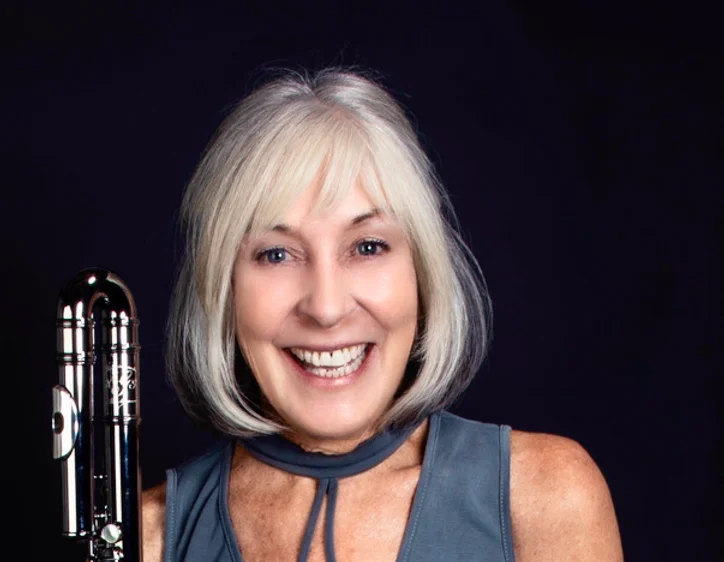 SITE Santa Fe
Saturday, October 7th
7:00pm (Doors at 6:30pm)
$30 (SFMC and SITE Members) / $35 (Non-Members)
TICKETS ON-LINE UNTIL 12pm - Saturday, October 7th
PURCHASE TICKETS HERE
ALI RYERSON - JAZZ PIONEER
Ali was one of the first women of her time to forge a career in jazz, long before others chose to follow in her path. She has emerged as one of the most exciting and versatile flutists on the scene today, having paid her dues alongside so many of the greats……Billy Taylor, Kenny Barron, Stephane Grappelli, Frank Wes, and many more. Equally versed in Classical and Jazz, Ali spent several years performing in a duo setting with the great guitarist Joe Beck. With over two dozen albums as a leader to her credit, Ali continues to perform all over the world at major jazz festivals while consistently ranking among the top flutists in the Downbeat jazz Poll for well over a decade.
More than a ten years ago Ali began making Santa Fe her desired place of respite among the rigors of the road. Since that time we began a musical collaboration that has culminated into an annual concert, the result of which has become sold out performances every year. This concert will feature Ali with her long time sideman Bert Dalton on piano, and Terry Burns on bass, performing a musical smorgasbord of some Brazilian music and some straight down the middle jazz.
As part of our ongoing series "Jazz at Site", this concert is an absolute must for the serious jazz aficionado.
SITE Santa Fe
Saturday, October 7th
7:00pm (Doors at 6:30pm)
$30 (SFMC and SITE Members) / $35 (Non-Members)
TICKETS ON-LINE UNTIL 12pm - Saturday, October 7th
PURCHASE TICKETS HERE